Post-COVID Recovery Program Available for People Experiencing Persistent Symptoms from COVID-19 for Longer than 4 Weeks
Most people recover from COVID-19 completely, but for reasons still unknown a percentage of patients continue to suffer long-term effects of the virus. The Kaplan Center Post-COVID Recovery Program can offer a path to recovery.
More on YorkPedia:
(YorkPedia Editorial):- Mclean, Virginia Dec 1, 2021 (Issuewire.com) – Post-COVID syndrome may be referred to as long-COVID or long-haul COVID. Post-COVID syndrome is a wide range of new or persisting symptoms that COVID-19 sufferers experience weeks after they were first infected.
By now, an estimated 3.2 million Americans are thought to have post-COVID syndrome – a figure that translates to approximately 10% of COVID-19 cases. But this is just an estimate. The true number is likely much higher.
Post-COVID Syndrome is sometimes referred to as Long COVID, Post-acute COVID-19, Long Hauler COVID, or Chronic COVID. While the terminology is often used interchangeably, researchers have defined two main phases of the condition with the primary distinction being the duration of symptoms.
"So, we now have this whole group of people who have what we now refer to as a post-COVID syndrome. Post-COVID syndrome doesn't seem to matter as to whether or not you had a mild or a severe case of the disease. It also doesn't matter as to how old you were when you got the disease." Said Dr. Gary Kaplan, founder and medical director of The Kaplan Center for Integrative Medicine.
People commonly report experiencing different combinations of the following Post-Covid symptoms; difficulty breathing or shortness of breath, tiredness or fatigue, symptoms that get worse after physical or mental activities, difficulty thinking or concentrating (sometimes referred to as "brain fog"), fast-beating or pounding heart (also known as heart palpitations), dizziness on standing (lightheadedness), change in smell or taste, cough, chest or stomach pain, headache, joint or muscle pain, pins-and-needles feeling, sleep problems, fever, rash, diarrhea, and mood changes.
"At The Kaplan Center we have been helping patients to treat very complex conditions and using that wisdom and knowledge of multidisciplinary approach we are able to see chronic COVID through that lens and are able to provide our patients with a very comprehensive approach," remarked Harpreet Gujral, NP of The Kaplan Center for Integrative Medicine.
A multi-system condition like Post-COVID Syndrome needs an integrative/multidisciplinary approach to address its wide-ranging symptoms. Patients will have an hour-long appointment with our Nurse Practitioner to discuss their past medical history and current symptoms. Appropriate testing will be ordered based on their history. With a complete medical history and the results of the patient's lab work we'll be well equipped to 1) determine what may be delaying recovery and 2) devise an integrative treatment plan that will get the patient back to total health, back to complete recovery.
People who are experiencing symptoms of post-covid longer than 4 weeks after the initial onset of symptoms should consider completing the assessment on The Kaplan Center website to see if they would benefit from a comprehensive 1-hour appointment.
To learn more about the Post-Covid Recovery Program visit:
https://kaplanclinic.com/post-covid/
About Kaplan Center for Integrative Medicine
Kaplan Center for Integrative Medicine looks beyond conventional medicine to help you achieve a happier, healthier life. Incorporating the best elements of conventional and alternative medicine, our goal is to provide an integrative approach, both in the office and through telemedicine, that attends not only to your physical symptoms but also to the underlying factors that are driving all of your health conditions. The Kaplan Center for Integrative Medicine offers over 40 types of treatments and services. Our integrative, non-surgical treatment approach is highly successful in restoring health and vitality to patients with chronic conditions or anyone who would like to improve their overall state of health.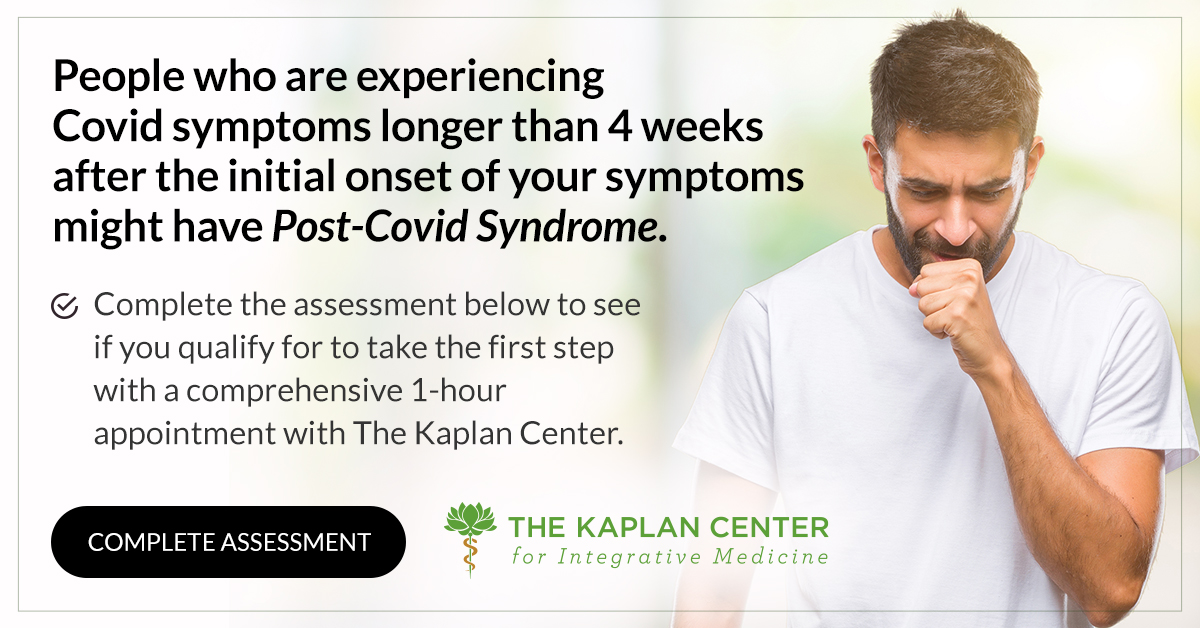 Media Contact
The Kaplan Center for Integrative Medicine
7035324892
6829 Elm Street, Suite 300
The Kaplan Center for Integrative Medicine