National Black leaders to hold the Black Wealth Builders Summit in Detroit Michigan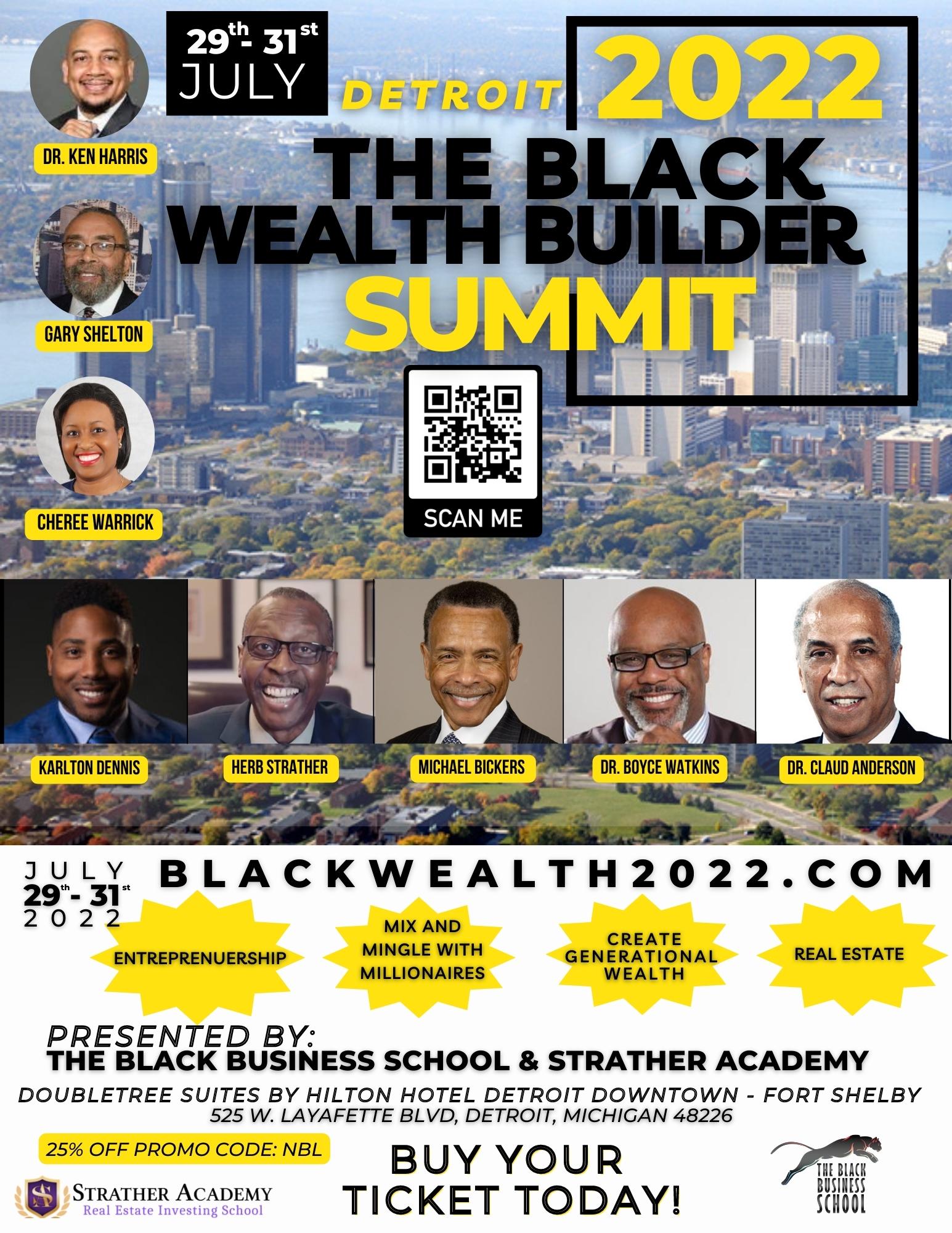 (YorkPedia Editorial):- Detroit, Michigan Jul 22, 2022 (Issuewire.com) – The Black Business School and Strather Academy are hosting the Black Wealth Builder Summit Fri July 29, through Sun July 31, 2022, at the DoubleTree Suites By Hilton Detroit Downtown – Fort Shelby. The event will be streamed live to a national audience. Herb Strather, Chairman of Strather Academy (with students over the country) said in Detroit Michigan, "We're challenging Black consumers to wake up and seek financial freedom by harnessing our $1.6 trillion economy to develop our own businesses and communities rather than be totally leveraged by foreign investors at home, and abroad. Detroiters are the most leverage group in America both financially and politically, the city is booming but blacks have 75% of the population and 10% of the economic participation."
Presenting at the event will be the Harvest Institute, National Business League, The 10K Project, and successful Black entrepreneurs. Dr. Claud Anderson, Founder, of Harvest Institute said, "Black American people are the poorest, sickest, and most locked up group of people in the USA." Concurrently, Black Americans are a huge loyal consumer base spending more money, per capita, on high-end goods than any other minority group and they spend it mostly with other organizations outside of their own community.  A study by the Selig Center for Economic Growth found that money circulates one time in the African American community, six times in the Latino community, and nine times in the Asian community. In white neighborhoods, money circulates an unlimited number of times; this explains much of the wealth gap in Black communities.
More on YorkPedia:
Dr. Boyce Watkins, President of The Black Business School (who garners more than 300,000 online students) calls this event earth-shattering. "A must attend. He continued to say, "This is the beginning of Black folks coming together in Detroit and across the country."
Herb Strather said, "Strather Academy's mission is to train the next generation of urban real estate entrepreneurs". Strather who has closed
$2Billion in real estate transactions, philosophy is to teach by doing, He said "When a student closes a real estate deal (which is mandatory in his academy), they learn through experience rather than theory.
The lineup of speakers attending or streaming live are:
Claude Anderson is president of PowerNomics Corporation of America, Inc. and The Harvest Institute, Inc.
Herb Strather, CEO of Strather Academy, and Strather Associates
Ken L. Harris, Ph.D. President/CEO National Business League
Cheree Warrick is the Co-founder and Chief Executive Officer of the 10K Project
Dr. Boyce Watkins is the founder of the Black Business School
Gary Shelton CEO of GOS Financial Services
The Summit will honor the legacy of Dr. Claud Anderson, Founder, of Harvest Institute. Everyone will be encouraged to read his two best-selling books, BLACK LABOR, WHITE WEALTH, and POWERNOMICS. "We're dedicated
to becoming a united front and engaging in activities that will help make Black America become self-sufficient economically, politically and … competitive as a group" says Dr. Anderson.
Those seeking more info should go to: BlackWealth2022.com
Media Contact
ROBIN McLellan
Source :Strather Academy
This article was originally published by IssueWire. Read the original article here.