Tony Thomas, DDS, a Dentist with Advanced Smile Care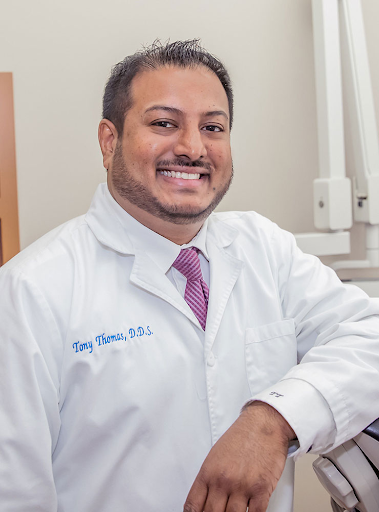 Get to know Dentist Dr. Tony Thomas, who serves patients in San Antonio, Texas
More on YorkPedia:
(YorkPedia Editorial):- New York City, New York Aug 16, 2022 (Issuewire.com) – A trusted dentist, Dr. Thomas is happy to be a part of the Advanced Smile Care team in San Antonio, Texas. His goal has always been to be able to change the narrative among people about the dentist and provide a calm, comfortable place for patients.
Extraordinary care and top-tier comfort represent foundational principles at Advanced Smile Care. For nearly 40 years, they have been San Antonio's premier dental practice for creating transformational smiles. Whether it be routine teeth cleaning or an extensive dental smile makeover, they offer a full range of comprehensive dental services provided by the best dentists in San Antonio.
A native of San Antonio, Dr. Thomas moved to the Seattle area at the age of 13. He received his Bachelor of Science in Biochemistry in 1998 from the University of Washington. He moved to New York in 2003 to attend the New York University College of Dentistry and graduated with his Doctor of Dental Surgery degree in 2007, before completing a one-year General Practice residency at St. Barnabas Hospital in the Bronx.
Expanding his dental knowledge with continuing education, he has taken numerous courses and workshops with the Spear Education group and also became certified in performing IV sedation in 2014. He had been practicing in the Greater NYC/Long Island area for the last 10 years, providing comprehensive dental care to patients, especially those with dental anxiety. Recently, he returned home to San Antonio and found a dental home in Advanced Smile Care where he could continue to give care to those who struggle with fear and anxiety of dental visits.
Dentistry, also known as Dental and Oral Medicine, is a branch of medicine that consists of the study, diagnosis, prevention, and treatment of diseases, disorders, and conditions of the oral cavity. Dentists diagnose and treat dental issues and help patients develop better oral hygiene regimens. They clean teeth, correct bite issues, perform surgeries, create beautiful smiles, and perform other duties to ensure that the teeth and mouth are healthy.
Learn More about Dr. Tony Thomas:
Through his findatopdoc profile, https://www.findatopdoc.com/doctor/2399603-Tony-Thomas-Dentist, or through Advanced Smile Care, https://advancedsmilecare.com/best-dentist/tony-thomas/
About FindaTopDoc.com
FindaTopDoc is a digital health information company that helps connect patients with local physicians and specialists who accept your insurance. Our goal is to help guide you on your journey towards optimal health by providing you with the know-how to make informed decisions for you and your family.
Media Contact
Your Health Contact
Source :Tony Thomas, DDS
This article was originally published by IssueWire. Read the original article here.